Concerts
Date
Time
Location
Country
Project
Tickets
25-09-'23 Tax shelter premiere
19:30
Sint-Adreas en Ghislenuskerk Belsele
Belgium
Tickets

Program

Clara Schumann (1819 - 1896) - Allegro moderato uit Klaviertrio in g moll, Op.17 (1847)
Johannes Brahms (1833 - 1897) - Allegro en Andante uit Sonate für Klavier und Viola Nr. 1 in f moll, Op.120 (1894)
Johannes Brahms (1833 - 1897) - Allegro en Adagio uit Klarinettenquintett in h moll, op.115 (1891)

27-09-'23
19:30
Veilinghuis Bernaerts Antwerpen
Belgium
Tickets

Program

Clara Schumann (1819 - 1896) - Allegro moderato uit Klaviertrio in g moll, Op.17 (1847)
Johannes Brahms (1833 - 1897) - Allegro en Andante uit Sonate für Klavier und Viola Nr. 1 in f moll, Op.120 (1894)
Johannes Brahms (1833 - 1897) - Allegro en Adagio uit Klarinettenquintett in h moll, op.115 (1891)

28-09-'23
18:00
Villa te Nitterveld, Ronse
Belgium
Tickets

Program

Clara Schumann (1819 - 1896) - Allegro moderato uit Klaviertrio in g moll, Op.17 (1847)
Johannes Brahms (1833 - 1897) - Allegro en Andante uit Sonate für Klavier und Viola Nr. 1 in f moll, Op.120 (1894)
Johannes Brahms (1833 - 1897) - Allegro en Adagio uit Klarinettenquintett in h moll, op.115 (1891)

28-09-'23
20:30
Villa te Nitterveld, Ronse
Belgium
Tickets

Program

Clara Schumann (1819 - 1896) - Allegro moderato uit Klaviertrio in g moll, Op.17 (1847)
Johannes Brahms (1833 - 1897) - Allegro en Andante uit Sonate für Klavier und Viola Nr. 1 in f moll, Op.120 (1894)
Johannes Brahms (1833 - 1897) - Allegro en Adagio uit Klarinettenquintett in h moll, op.115 (1891)

29-09-'23
19:30
Sint-Petrus en Pauluskerk Middelburg
Belgium
Tickets

Program

Clara Schumann (1819 - 1896) - Allegro moderato uit Klaviertrio in g moll, Op.17 (1847)
Johannes Brahms (1833 - 1897) - Allegro en Andante uit Sonate für Klavier und Viola Nr. 1 in f moll, Op.120 (1894)
Johannes Brahms (1833 - 1897) - Allegro en Adagio uit Klarinettenquintett in h moll, op.115 (1891)
Programma
Clara Schumann – Allegro moderato from Klaviertrio in g moll, Op.17 (1847)
Johannes Brahms – Allegro and Andante from Sonate für Klavier und Viola Nr. 1 in f moll, Op.120 (1894)
Johannes Brahms – Allegro and Adagio from Klarinettenquintett in h moll, op.115 (1891)
Muzikanten
Midori Seiler artistic coordination and first violin
Laura Granero fortepiano (original Hammerflügel from Leipzig 1856, No. 600, collectie Christopher Kern)
Lisa Shklyaver clarinet, Joseph Tan violin, Bernadette Verhagen viola & Hilary Metzger cello
Atelier Anima: Clara Schumann' Salon
The Ateliers of Anima Eterna Brugge offer a unique concert experience, bringing listeners closer to the musicians, to the works, to shared musical emotions, and to the tireless pioneering spirit in Anima Eterna's DNA. For almost 40 years, concertmaster Midori Seiler and orchestra members have emersed themselves in the historical practice of music – using instruments like the ones composers wrote for and utilised during their era! Today, the musicians turn their attention to a pianist and composer who, because of her personality and activities, played a crucial role in the 19th century: Clara Schumann.
In this Atelier, audiences will relive the intimacy of her salon, suffused with the spirit of her husband, Robert Schuman, and her friend, Johannes Brahms, for whom Clara was also an enlightened and critical muse, often performing his works. Extensive research into the recordings made by Clara Schumann's students inspired Midori Seiler and Anima Eterna to undertake a rigorous and playful search for the musical ingredients that can't be found in the score, such as style, phrasing, the degree of freedom, the art of sustaining a melody from beginning to end, and the intensity of the attack: in short, the 'je ne sais quoi' in the art of interpretation – that Clara Schumann evidently managed to pass on to her students. This is the subtle trail Anima Eterna followed in its search, the intention being to come as close as possible to how a composer conceived and experienced his or her works. So, we'd like to welcome you to Clara Schumann's Salon. The doors are wide open!
Locations
Belsele: Sint-Andreas en Ghislenus church, Belseledorp, 9111 Belsele
Antwerpen: Veilinghuis Bernaerts, Verlatstraat 20, 2000 Antwerpen
Ronse: Villa Te Nitterveld, 9600 Ronse
Middelburg: Sint-Petrus en Paulus church, Middelburgse Kerkstraat, 9992 Middelburg
Meet conductor Midori Seiler
Discover her journey with Anima Eterna here.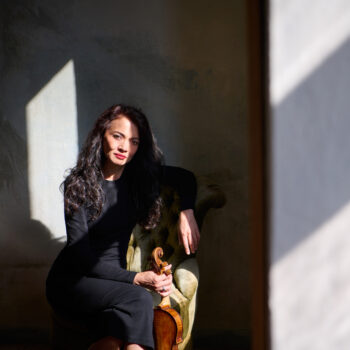 Back to projects 2023-2024 overview.
This project came about with the help of