As from the concert season 2020-2021 Anima Eterna collaborates with a range of guest conductors who each develop an artistic path with the orchestra. In the following years, Giovanni Antonini is given an important role. He is a musician in heart and soul who's quest for meaning never ends. Besides proposing an artistic project for each season, he will be our first guest conductor and musical advisor. 
I can be of value for them and at the same time they can teach me a lot. Let's see which adventures await us" – Giovanni Antonini, De Standaard, 31/03/21.
The musicians from Anima Eterna can already look back on a first succesful collaboration with Giovanni Antonini during our project in February 2021. On the program was Viennese and Italian music. You can watch the result of this on Podium 19 and VRT NU.
In February 2022, Giovani Antonini, Anima Eterna and Vox Luminis will celebrate the twentieth anniversary of the Concertgebouw Brugge. In 2001, this spectacular concert hall's brand-new house orchestra, Anima Eterna, was the first to grace the stage with Haydn's Die Schöpfung conducted by Jos van Immerseel. That was the start of a residency characterised by many unforgettable productions. Now, precisely twenty years later, Anima Eterna will commemorate this extraordinary jubilee with Haydn's other great oratorio, Die Jahreszeiten. More information and concert dates will soon be available here. 
In the seasons to follow, Antonini will firmly turn his focus to nineteenth-century opera, music that is rarely performed on historical instruments. Antonini is especially fascinated by the bel canto repertoire. Together with Anima Eterna, Antonini will go in search of 'Bellini's genuine bel canto,' a quest for colours and lines, narratives and rhetoric. 
'My interest is often drawn to music that has a theatrical aspect, music in which images almost automatically appear before your eyes.' – Giovanni Antonini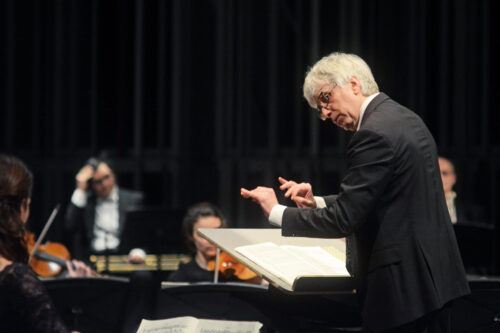 Previously…
In 1989, Antonini founded the Baroque ensemble Il Gardino Armonico in his hometown Milan. As recorder player his passion for period-instruments and historical performance practice grew steadily. A passion he still pursues as conductor of Il Gardino Armonico. He has already performed with many prestigious artists including Cecilia Bartoli, Isabelle Faust, Katia Labèque, Giuliano Carmignola and Kristian Bezuidenhout. Renowned for his refined and innovative interpretation of the classical and baroque repertoire he recorded numerous albums for Decca, Warner Classics and Sony Classical. Together with his Italian ensemble he is currently recording all Haydn symphonies for the Haydn2032 project.