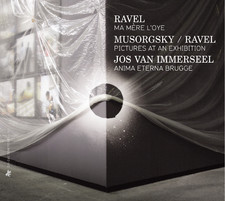 Pictures at an exhibition
Pictures at an exhibition
The relation of Anima Eterna Bruges and Jos van Immerseel with French music is as strong as it is fruitful. The fantastic recent recording Debussy's La Mer (ZZT 313) – henceforth recognized as a reference – stands as proof.
The singular colours and timbres of the period instruments of the Anima Eterna musicians also have their share in this amazing osmosis.
In this new recording where Ravel the orchestrator of Mussorgsky rubs shoulders with Ravel the orchestrator of his own piano work, the force of the interpretation perhaps relies even more on the astonishing richness of the Anima Eterna sound palette to serve works that make the orchestra sound in a way that very few have achieved.
Tracklist
Ma mère l'oye

M. Ravel

Tableaux d'une Exposition

M. Mussorgsky (orchestrated by M. Ravel)